On-Site Services
Canon and Oce Equipment Sales
Willamette Print & Blueprint is Oregon's premier Canon and Océ Authorized Servicing Reseller. We offer a complete end-to-end solution including equipment consultation, service, media selection, and cost recovery. Purchase, lease, or let us customize a cost-per-copy program tailored to fit your needs. We service Canon or Océ equipment and offer long-term maintenance plans.
Canon
As a worldwide innovation leader for over 70 years, Canon has a legacy of cultivating breakthrough technologies. Canon's expertise in the areas of science, engineering, and manufacturing has produced world-leading imaging solutions and consistent placement among the top U.S. patent holders of the decade.
Canon Technical Documents & Multifunction
The technical Documents and Multifunction lines are designed for the CAD user, whether your field is architecture, engineering, or graphic design. This impressive technology can quickly print drawings, zone maps, aerial photos and 3-D renditions with high accuracy.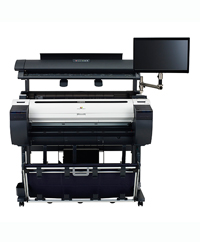 Wide variety of imaging capabilities from 36″ to 44″
Multifunction units allow you to scan-to-copy/file/e-mail directly from the system.
canon's reactive ink technology is specially formulated to improve both durability and clarity of the image.
two matte black ink channels maximize output speed for text and line drawings.
Printing support for AutoCAD®, HP-GL/2, and HP RTL Files.
Canon Graphic Arts Printers
Built for professionals who appreciate the difference between ordinary and extraordinary print quality, these imagePROGRAF large-format printers deliver a unique combination of ultra-high-quality imaging and maximum productivity. These printers are available in 12 color and 8 color models to meet your specific needs and budget.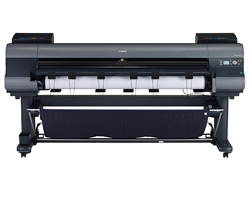 Canon's specially formulated LUCIA pigment inks have outstanding archival characteristics and produce an extraordinary range of vibrant colors, subtle hues, and deep shadows.
Maximum print resolution of 2400 x 1200 with a 4pl ink drop size.
The 12 color printers come in wide variety of sizes from 17″ – 60″ wide.
The 8 color production prints range from 24″ – 60″ wide.
Océ
Océ is a worldwide leading supplier of large format plotting/printing/copying/scanning systems including monochrome and color technical document systems.
Océ PlotWave 340/360
Simple, green, and durable, all-in-one large format system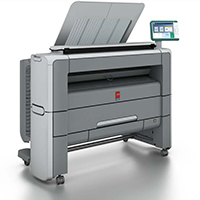 Océ 600 x 1200 pico printing for excellent gray scales and sharp lines
Superior color scanning with unique Océ Color Image Logic technology
Print from and scan to Wi-Fi enabled mobile devices like iPad© or Android©
Easily print and scan with a USB flash drive directly at user panel
Océ Radiant Fusing technology for instant-on printing, no warm up time, tremendous reliability and very low operating costs
Océ ColorWave 300
Efficient, economical large format color digital system for printing, copying, and scanning.
Scanning and printing at 600 x 600 dpi
Thermal inkjet with Océ Dynamic Switching technology
Digital multifunction system – print, copy, scan
Most energy-efficient printing system on the market
HPGL, TIFF 6.0, CALS, NIRS, C4, ASCII, optional Adobe PS3/PDF
Océ ColorWave 650
Print, copy, and scan without sacrificing productivity or quality with the Océ ColorWave 650 printing system. Now you can print superb quality — in black & white and color — on a single device using proven, award-winning Océ CrystalPoint technology.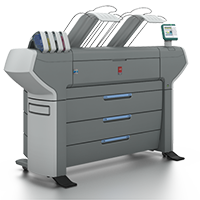 New technology combining the best of inkjet and LED technology
600-dpi print quality
Up to 1,361 sq.ft./hour in color and 1,459 sq.ft./hour in monochrome
Collated finishing with a capacity of up to 250 prints
High quality color prints on plain paper
Scanner available in monochrome or color
Up to 6 media rolls for different media types and sizes (up to 42″)
Océ PlotWave 500
Cloud integrated, advanced large format technical document management.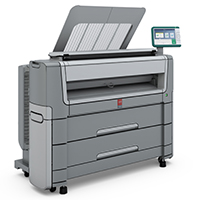 Superior copy and color scanning results with Océ's exclusive Color Image Logic™ technology
600 x 1200dpi print quality
Built-in media roll loading station with auto feed and auto width detection
Advanced technical document workflows including integrated cloud printing and scanning
Up to 4 rolls of 650 foot media for flexible printing options
Océ PlotWave 750
Setting the benchmark for quality, reliability and ease-of-use!
Improved support for DWF printing and higher overall print quality
600 x 1200dpi print quality
Digital multifunction system – print, copy, scan
True print productivity independent of media size changes within the print job (4.7 E/min.; 9.1 D/min.)
A choice of two scanners (monochrome and color), a folder, and different media size configurations.
Most energy-efficient printing system on the market
---
Printing Services and Supplies
Willamette Print & Blueprint's Supplies Division offers a wide variety of media, ink/toner, plan/filing systems, and working supplies for the architectural, engineer, design, manufacturer, contractor, and construction firms over the Portland Metropolitan area.
We can boost your sustainability efforts by picking up roll cores, end caps, bags, and empty toner bottles for recycling.
To help manage cash flow and improve the efficiency of managing your supplies we offer a cost-per-copy and/or inventory management program that may include paper, toner and maintenance.
To place an order or to discuss the availability of a particular item please call, e-mail, or fax your request to the following:
WP&B Inc. Supplies Division
3461 NW Yeon Ave.
Portland, Oregon 97210
P: 503-223-5011
F: 971-244-9900
E: supplies@wpbinc.com
Delivery, will-call, and UPS available.
100% Recycled Bond Available for Purchase
Willamette Print & Blueprint Supplies Division offers 100% recycled bond for your large format printer, copier and plotter. Our 100% PCW recycled bond paper is a 20lb, opaque white paper that is tetrachloride-free, chlorine-free, and acid-free. No bleaching agents are used. This product is available for all makes of wide format digital printers, and copiers using 3″ cores, and all inkjet printers using 2″ cores.
We proudly offer Océ, Dietzgen, & HP Imaging Products
Engineering Bonds, Vellums & Films
Specialty/Presentation Bonds
Inkjet Bonds, Vellums and Films
Coated, Color Presentation Bonds
Specialized InkJet Graphic Products
Toner and Ink for Wide Format Printing
Black & White Laser Printing Systems
Océ
Xerox
Ricoh
KIP
Others
Color Inkjet Systems
HP DesignJet Series
Océ TCS Series
Canon IPF All Models
Drafting, Engineering & Graphics Supplies
Design/Sketch Papers and Vellums
Assorted Hand-Draft Products
Plan Filing & Document Storage Systems